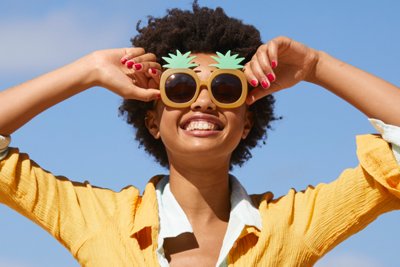 Aerie Pineapple Sunglasses
Yes, I am fully aware of how frivolous and unnecessary funglasses are. Nobody needs a pair of cheap shades with lenses shaped like hearts or fruits or charismatic pandas. The lenses are never as clear or sun-protective or scratch-resistant as the glasses one might procure from an opthamologist in standard oval, square, or cateye shapes. They never have the option to add a custom prescription or anti-glare coating. They never come polarized.
Yet I have been sporting a pair of classic heart-shaped sunglasses for the better part of two years that I got for just a few dollars at Claire's of all places, and am delighted to report that while nobody's life is changed by standard eye-doctor sunglasses, a pair of classic heart-shaped glasses has the power to transform other people's ordinary, errand-filled, hum drum days into hum drum days punctuated by an extraordinary moment of highly memorable joy.
Funglasses are an easy way to filter the debbie downer grumps from those gems of humanity that have a healthy sense of humor and appreciation of creative self-expression and random quirkiness. Because the most highly evolved humans do not judge you sternly for your decision to pursue frivolity and fun in your fashion choices. No. They are overcome with amusement and giggles and delight in the silliness of it all. They understand that life is hard, so why not shape a pair of eyeglasses into pineapples.
I am all about delicately balancing form against function, with function as the foundation of good design. Eliciting pure joy from a form that also (mostly) fulfills its utilitarian goals is what great design is all about.
Pink Heart Sunglasses from Paper Source. (Unsure about sizing.) Also, Unicorn Lipgloss and heart shaped drink straws.
Daisy Sunglasses, also from Paper Source. (See product description for sizing info.)
Pink Flamingo Party Sunglasses / Tenacious Peacock (Unsure about sizing.)