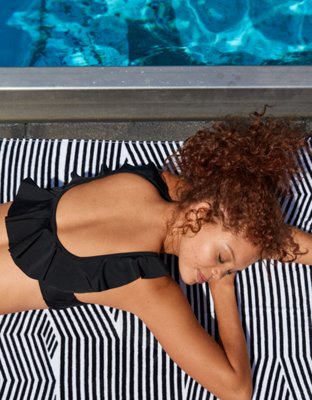 I am asked all the time where to get swimwear that is petite-friendly. This post is all my favorite swimwear brands for petites in one place based on years of experience. I am always on the lookout for flattering, high-quality construction in small sizes, so please let me know if you have any tips about other brands!
AERIE
The lead photo is my current pick from Aerie. LOVE their "VOOP" (V-neck plus scoopback) concept, and love this VOOP one piece, but it looks like the one piece fit might still have some design issues to work out. I am not sure about quality and durability, but their sizing should work well for petites. The suits are usually padded.

Acacia
My favorite suits from Acacia are the ones that feature native Hawaiian plant motifs. Acacia makes very flattering suits in small sizes. I've never seen a top from them that has any padding, but the seamless (or near seamless) construction (two pieces of spandex fabric sewn together along the inside edges) they seem to consistently opt for is extremely comfortable to wear. So much so that I no longer want to wear any of the older style of swimwear construction (you know, those thick edges folded over with a meshy nude or white colored lining).
L*space
L space also makes very flattering suits that are comfortable and stylish.
ViX
ViX has been in the swimwear game for a long time and is known for their high quality thicker fabrics that last a long time and stay put in the water. If you like a touch of gold hardware on your suits and rouching, they always seem to have that. They also make classic silhouettes that are very flattering.

Mikoh
Mikoh always has very cute, very strappy, very flattering unpadded swimsuits. They do a lot of colors that would work well for cooler skintones, like the Lychee colorway of the bikini top pictured above. Their suits can be hard to find, but you can shop their website now. Construction is similar to Acacia where the garment feels like a silky second skin, but may not offer enough coverage for some.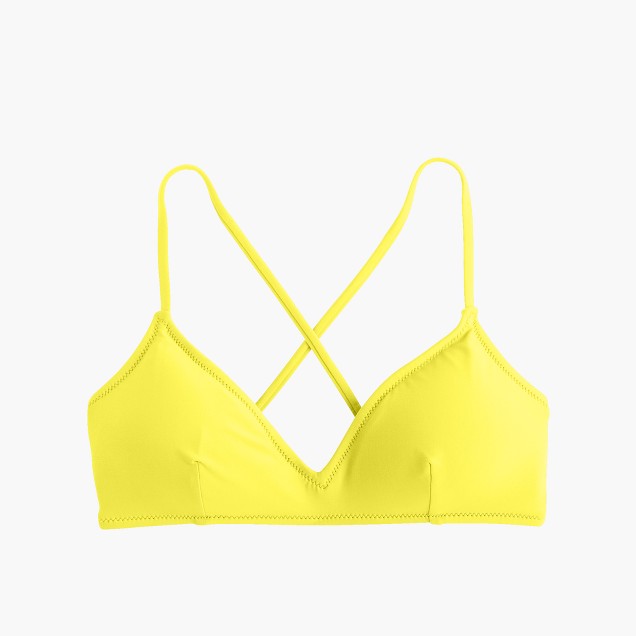 J.Crew
J.Crew makes some tiny swimsuits, at least they have in past seasons, which actually makes sizing a little tricky, but shipping and returns are complimentary. The French Cross-back Bikini Top is my current favorite. It comes in a multitude of colors and extensive sizing options. They have had some iteration of the French Bikini Top for years, and I like to think they are refining it to perfection, although I wish they would bring their other version of the French Bikini Top back (you know the one with the band along the bust line).
Hurley
Hurley was being manufactured in the US, at least partially, by Swimspot for a while but the inventory there seems to be tapering off, which makes me think that manufacturing has moved overseas. I'm not sure where the fit, quality, and styles will end up. Such a shame. They made some great suits for a while.

Roxy
Roxy is a little hit or miss, both size and design wise. They consistently make good quality suits at affordable prices though, like the Cuban inspired print above. Just keep checking back until they come out with a silhouette that looks promising in a print that you like.

Splash! Hawaii
Trends come and go, but this suit by Splash Hawaii is always on point. Flattering, wide range of sizes and colors, great quality, affordable, made in Hawaii. I always have this suit in my closet as a go-to staple. You can't go wrong with a basic triangle bikini top and Brazilian cut bottoms. They have a lot of other styles made in-house, too, and also carry other brands, including a lot of the ones mentioned above.
Have you tried any of these suits? Did I miss your go-to brand? Please let me know in the comments.